December 2007
Linear Measuring Systems Company acquires SARGON-DRO.COM
The web site address that is on all the literature and correspondence for many years is now the property of LMSC. Now that we have acquired this web address you can now go directly to our support site from the original Sargon web address.
August 2005
Sargon Industries goes out of business.
As of August 2005, Sargon Industries is no longer in business. The company closed is doors and sold off most of its equipment. Anything that was not sold was given away or thrown in the trash. If you happened to have anything at Sargon at the time of the closer, it is gone forever.
Linear Measuring Systems has purchased the domain names Saron-dro.net and Sargon-dro.org to help support the existing customers of Sargon product. Sargon-dro.com is owned by one of the past owners of Sargon Industries and he has refused to sell the domain name to anyone.
---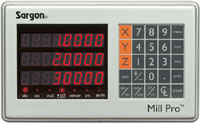 Introducing the new DRO "Pros"!
Sargon announces a new generation of DROs: the Mill Pro and Lathe Pro. These DROs raise value and performance to a new level. See them and fall in love with these delightful tools.
---

Sargon's e-store: a DRO first is now gone but the LMSC e-store is available!
Sargon offers an entirely new way of buying a DRO system. Your time is valuable and Sargon is working hard to bring you convenience and efficiency. Just select your desired displays, scales, and hardware kits from our easy to use e-store menus and click! Shipping is FREE via UPS Next Day Airô (wherever this service is not available, the next fastest available service will be used).
---

XTG300 series miniscale
This amazing new miniscale from Sargon is perhaps the most impressive scale ever made. This scale is so unusually robust, you have got to see it to believe it. Sargon has once again distinguished itself by producing scales that are able to endure a great deal of punishment. In fact, the XTG300 encoder can be banged against the scale's end cap without an impact on its performance. And it travels along the length of the scale without leaving gaps, this thanks to its ingenious interlocking wipers.
---